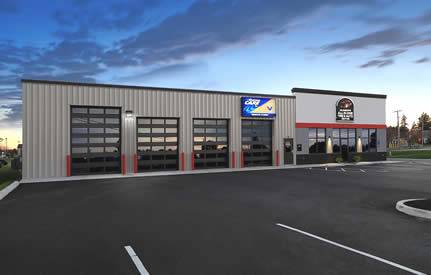 Commercial Garage Doors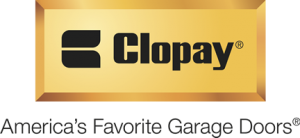 If you are looking for high quality commercial overhead doors for your company, no matter what your requirements, Spring Valley Overhead Door has a variety of doors to suit all of the needs of your business.
Energy Series with Intellicore®
Climate control, reliability, durability– our premier, thermally broken, polyurethane insulated l garage doors have it all, providing excellent temperature control, energy efficiency and long-lasting service for a wide range of applications, such as firehouses, warehouses, and municipal buildings. R-Values up to 22.2
View Clopay's Energy Series with Intellicore®
Energy Series
These high quality, polystyrene insulated steel sectional doors provide energy efficiency and reliable service under demanding conditions, making them ideal for use in municipal buildings, warehouses and shipping dock applications, or wherever value and energy efficiency is needed. R-Values up to 9.1
View Clopay's Energy Series
Industrial Series
Industrial Series doors feature a variety of standard ribbed, flush and embossed patterns such as stucco and woodgrain. Available in a wide selection of gauges for pro-grade durability, this series is a great choice for high-traffic applications including warehouses, distribution centers and loading docks.
View Clopay's Industrial Series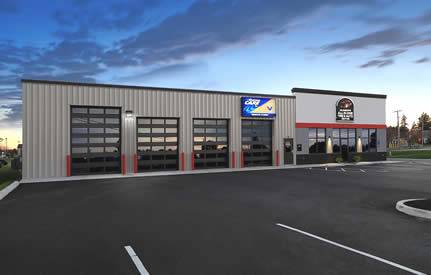 Architectural Series
The perfect choice for architectural applications that require open visibility, natural light and a modern, industrial design. The full-view series can be used as an exterior garage door, an interior "partition" or even as a versatile patio door to merge indoor and outdoor spaces. Well-suited for restaurants, service stations, car dealerships, fire stations or industrial space requiring maximized daylight views or a distinct contemporary architectural appearance.
View Clopay's Architectural Series
Roll-Up Steel Doors
Roll-up sheet doors are ideal for mini warehouses and self-storage facilities with the goal of added security. Constructed from 26ga by 24 in wide sheets of steel roll formed with integral grooves that are hemmed together to form a continuous sheet guided vertically by roll formed guides.
View Clopay's Roll-Up Steel Doors
Counter Doors/Shutters
Clopay counter shutters (doors) are ideal for concession areas, cafeterias, pharmacies, cashiers, parts and tool storage areas where resistance to flame spread or smoke penetration is not required.
View Clopay's Counter Doors/Shutters
Coiling Service Doors
Serving the industry with an array of curtain materials (prefinished galvanized steel in gauges from 24 to 18, stainless, or aluminum), slat profiles, and colors, Clopay's service doors can accommodate most openings and building requirements.
View Clopay's Coiling Service Door
If you don't see a style you are looking for, give us a call today at 507-346-7237 to see what we can find for you.